Ian Greenwood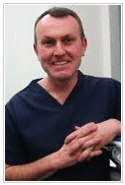 I qualified at the University of Leeds in 1988 where I gained a distinction in prosthodontics, and won the year prize in that subject. After graduation, I was keen to consolidate what I had already learned, to learn even more, and to acquire new skills in restorative dentistry and oral surgery. I therefore undertook several different hospital positions.
I subsequently worked in the Community Dental Service in Camden providing dental care to patients with the then newly discovered HIV virus. At a time when many dental practitioners were reluctant to treat people with HIV, I provided a safety net. After 12 years in the NHS, I felt the need for some new challenges, and entered general practice. Then as now, my prime interest is in providing patients with general and aesthetic dentistry that is ethical and of a high standard.
Outside work, I am a keen allotment gardener, a passionate music lover (from Handel to Wagner), and a committed cyclist. I have lived in West London since 1994, and am a great believer in the importance of the local community. It is this that has driven my commitment to own a practice in Hammersmith and continues to fuel my passion to run it successfully, providing high-quality general and aesthetic dentistry to local residents.
Ian is simply the best dentist I have ever had. Very professional and takes the time to explain everything. Much appreciated.
Speak to Ian
If you want to talk to me or have any concerns at all, please feel free to get in touch using one of the following ways.

...or fill in the form on our Appointments page: